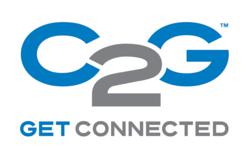 Dayton, OH (PRWEB) June 13, 2012
LAS VEGAS, NEVADA (InfoComm 2012, Booth C9144) June 13, 2012 Cables To Go (http://www.c2g.com/), the preferred provider of high performance cabling and connectivity solutions, announced today that it has rebranded the company. The new brand, C2G, communicates the strategic direction and vision of the company by offering a more broad and diverse portfolio of exceptional connectivity solutions, investments in the development of advanced tools, and geographic expansion across Europe. C2G is passionately committed to delivering innovative solutions to Get Connected in todays ever-changing technology landscape. The C2G brand identity will be unveiled at InfoComm 2012, Booth C9144.
It is with great pride and excitement that we launch the C2G brand. Over the years our product portfolio has grown beyond cabling to include A/V connectivity solutions that utilize the latest technology to provide more options for our customers. With the C2G brand, we now have better alignment between our products and brand that communicates our offering to key partners and customers. With a remarkable 28 years of experience as the trusted partner in connectivityexpertly delivering quality solutions and an extraordinary customer experience every timewe are poised to realize our full potential in getting our customers and partners connected, said Bill Diederich, president and CEO of Lastar, parent company of C2G.
Along with launching the C2G brand, the newest additions to the companys solution portfolio will be featured at InfoComm. RapidRun