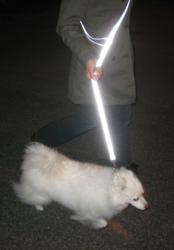 Boulder, CO (PRWEB) May 31, 2012
Summertime can be as much fun for pets as it is for people. Dog and cat owners need to take some precautions to keep their animal friends cool, happy, and safe during the dog days of summer.
By following a few summer pet safety tips, you can keep your animal friends healthy and enjoy the months of sun and fun.
Vedante shares 10 Tips for Summer Pet Safety
1. Make sure your pets are visible at night:

Fewer hours of daylight in winter translate into visibility issues for your pet. Dogs and cats should wear highly reflective collars with 360